18/07/2014
- Southampton Gymnasts Win World Bronze Medal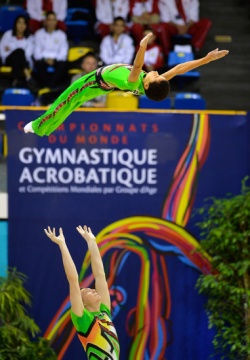 WORLD CHAMPIONSHIP SUCCESS FOR SOUTHAMPTON GYMNASTS

Southampton Gymnastics Club's senior Men's Pair of Kieran Whittle (19) and Farai Bright Garamukanwa (15) have just returned from the World Championships in Acrobatic Gymnastics held in Levallois, France.
Their baggage allowance had to be checked as they returned with them a little heavier than before, carrying back to Southampton City, a World Bronze Medal and an incredible third place finish at their first ever international event for the Great Britain Team.
Kieran and Farai debuted for the Great Britain team after an intensive preparation for the championships guided by their coach Keri Llewellyn (Southampton Gymnastics Technical Director) and supporting coaches and choreographers.
The boys were first up for the British team with their dynamic routine, full of thrown somersaults and daring aerial skills. They should not have been worried as they were before the event as they performed a brilliant routine scoring 27.210 which after the first round put them in fifth place.
No day to rest or prepare for their next routine, the boys later in the afternoon competed their balance routine with one arm handstands and incredible strength skills for a score of 27.110. So far two very consistent performances.
Tired after the first day of competition Kieran and Farai knew they had a tough challenge in front of them. The were up to compete their qualifications combined routine very early on Friday morning and knew that their performance in this routine would either give them a place in the final or end their world championship experience.
A small mistake in one of their intricate catches meant after seeing their score of 26.60, the waited tentatively and nervously to see if they had made the final. They needn't of worried as their three consistent and quality routines gave them entry into the final in 4th place.
As all scores return to zero for the final, Kieran and Farai knew that had to perform the best routine of their lives to be able to step up that one place. The order in which the countries competed was independently drawn and the boys were last up of the final six competing countries.
Knowing that five of the best men's pairs in the World were performing in front of them, they had two choices – they either hit their routine with determination or they allowed the experience to worry them.
As they walked on the floor Russia Lead with Belorussia in 2nd and Belgium in third. They stepped on the floor and started the routine in a way they chose, determination.
The routine was difficult, precisely performed and confident. They finished the routine knowing it was good but as they waited for their score they heard roar from the British supporting contingent who could see they had done it and stepped above Belgium to a brilliant 3rd place in the World Championships in Acrobatic Gymnastics was achieved.
Keri Llewellyn said – " The boys achievement is nothing less than phenomenal , given that this is their first ever international experience for the Great Britain team and shows that the gymnastics programme we have running at Southampton Gymnastics Club is World Class.
After a well-earned rest Kieran and Farai will then aim for the World cup and European championships next year. Being a non funded sport, Kieran and Farai are looking for sponsors to help with their future goals. Please contact Southampton Gymnastics Club on 02380 529952 if you would to support these to great gymnasts.
All photos from the Federation of International Gymnastics