30/05/2014
- Our British Champions Make It Into The Great Britain Team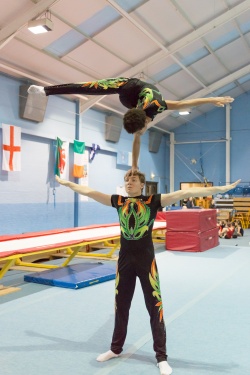 For all sports persons the greatest ambition is to represent their country. For two young men from Southampton Gymnastics Club the dream has developed into a reality. Kieran Whittle and Farai Bright Garamankanwa were recently named as part of the Great Britain Team for the World Acrobatic Gymnastics Championships heading to Levallois, close to the capital of France, Paris.

As Great Britain seniors, they take a coveted place in a prestigious team, as GB are one of the world's very best in this most impressive of sports. Selected as senior Men's pairs, the journey of preparation for the World Championships is continuing alongside inspirational coach Keri Llewellyn and knowledgeable international judge and, club chairman Caroline Hodgson.

But where did the journey begin? And how does such an opportunity arise? What kind of commitment is needed to 'make it' in the world of elite level gymnastics?

Like many gymnasts Kieran and Farai were involved in a variety of different levels of gymnastics – preschool, school clubs and recreational gymnastics classes before achieving selection into the squad at Southampton Gymnastics Club, based in a purpose built gymnastics facility situated in the grounds of Redbridge Community School. The venue is a large, well-organised space filled with matting, apparatus, foam filled pits, tumble track, trampoline and fast track. However all this is hollow without the inspiration and vision of a team of coaches, all sharing expertise and ambition, working together to create a quality gymnastics programme, from which the boys have benefitted.

Kieran and Farai competed as a partnership in their younger years and achieved regional representation at the British National NDP Finals in 2009. However, after several different partnerships they were brought back together in 2011 by inspirational coach Keri Llewellyn, himself a former GB international gymnast and coach of previous World Championship winning partnerships. Nearly two and half years later the hard work from all three members of this team, with never ending support from all parents, other coaches and gymnasts, have achieved what at times seemed an impossible dream.

The journey to this accolade as with any elite sports person has been challenged with illnesses, minor injuries, changes to the competing code and the everyday test of training 18 long hours a week alongside school, college and work commitments. We are sure the boys will say that the sacrifices have been well worth it.

The difficulty requirements at the senior level is massive and as such the boys and their coaches have had to work exceptionally hard to achieve the expertise needed as well as the correct techniques of the skills required. It is thanks to all concerned that they are able to take their place alongside gymnasts from other clubs and march out with their heads held high onto the World Acrobatics Stage in July in 38 days' time.

Their routines are lively, energetic and infused with clever and imaginative choreography by Russian choreographer Anna Matyskina. Included amongst this are caught somersaults, high flying double somersaults, twists and turns and handstand catches but the balance work from these two young men is at times breath taking – one arm handstands in a variety of complex and very challenging shapes, held for many seconds by the top whilst the base creates different transitions of positions. Acrobatics at its most beautiful, refined and controlled.

Kieran and Farai deserve every success, their commitment and determination to succeed has been tested at every level, and yet still they have persevered and with the support and expertise of the coaches they have achieved the selection that they deserve. The whole of Southampton Gymnastics stands with them and is proud of them, as they continue to work hard to make their mark on the international scene.
In the press...